W O R K S H O P S / S E M I N A R S / G A T H E R I N G S
**WINTER SOLSTICE MAGIc**
Eardisland Herefordshire Sat Dec 10 2022
This will be an informal, friendly gathering. Winter Solstice is a time that is indeed magical because it comprises a seam that takes Earth from death into rebirth - and it carries us with it. We call it a seam because it is magical, like day turning to night, or twilight, or like night turning to day, or dawn, which carries a good deal of ancient power, where we are connected to the otherworld. It is therefore a good time to make wishes, plan new goals and dreams, a time to let go of the old with the death of the old year, and a time to clear away and clean the slate for what can be created in the new year .
At this celebration workshop we will be looking at Solstice traditions, which take on board our ancestors, who traditionally come closer at this time of year. We will be looking at the power of otherworldly portals & performing a shamanic ritual based on Romani Gypsy folklore/cultural traditions.
This will be a time to let go of the things that bugged you through 2022, and welcome a new way of seeing and experiencing everything in 2023!
You will be most welcome to join me for this magical event. Contact me here and I will put you in touch with my host for booking details. Hope to greet you at this event...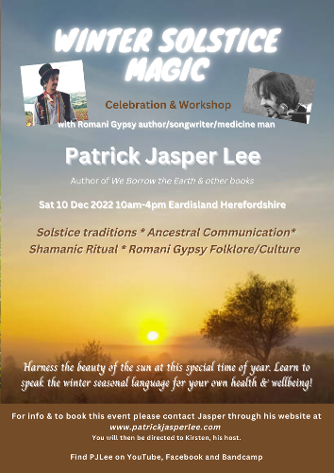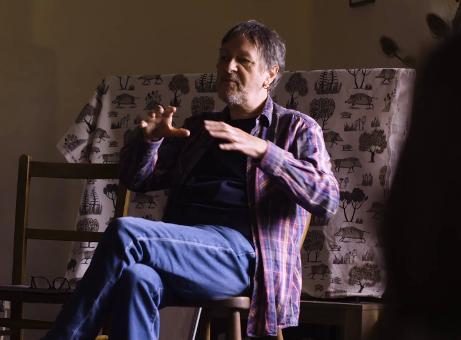 This programme is structured for today's minds with ancient minds as a focus. How do we reach our earlier ancestors? How do we use what they had to live our lives in a more fulfilling way today? We are all suffering with the effects of the modern world. By coming together, we can explore many avenues of ancient traditions, rituals, skills & abilities, and learn to practice an ancient craft in an original and respectful way. Do please get in touch if you can help me spread this vital education re ancient culture - contact me.
Next South Wales workshop: Dreaming the Ancient Path, weekend 18th & 19th March 2023, Gower. Contact me.
Next Cumbrian workshop: Spring 2023. Details tba.
If you wish to host a workshop yourself, in the UK, or even further afield, please get in touch. I will welcome hearing from you.
Author/Songwriter/Romani Gypsy medicine man, Patrick Jasper Lee, will take you through a unique programme of self-transformation accommodating the following:
ancestral & otherworld communications (includes evening ancestral session on weekend workshops only) * the art of Primary Organic Thinking * how to relate to and access natural-world values * how to read/use omens * ancient animism * understanding healing in its ancient context * community v individualism * true meaning of shamanic interaction * trance/hypnotic states * woodland folk & folktales/inheriting folktale characters* the ancient shadow world * the role of Destiny * the soul and emotion * otherworld portals * surviving consumerist culture * recovering ancient principles for everyday living * respecting ancient culture & understanding cultural appropriation * the necessity for creativity and expression * the mind/body/spirit industry and its effects * preserving mental/emotional health * how to love without sacrificing one's soul * how to protect yourself.